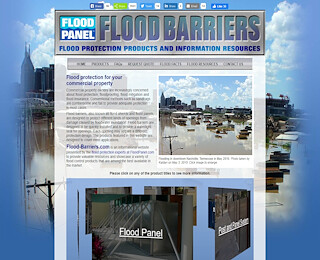 PEDESTRIAN FLOOD DOOR
(MAN DOOR)
The Flood Panel Pedestrial Flood Door (also known as man doors) performs essentially like a normal pedestrian door. However, it has been internally reinforced and has a mechanical sealing mechanism housed within the frame to give a leak-free seal when fully closed. The Flood Door is an active flood barrier 24 hours a day. This is ideal for flash flood and critical infrastructure locations, and especially for customers who are looking for "no worry" flood protection solution.
Pedestrian Flood Doors are customizable.
This product can be custom made in either steel or aluminum to suit any single door opening. The internal seal elevations can accommodate any flood elevations. The Flood Door can be fitted with many choices of door furniture hardware (standard panic bars, specialized locking hardware and small glass view ports, etc.).
Flood Panel has many years experience with custom applications for irregular openings that require flood protection. We have full design and fabrication capability to custom design systems to accommodate unique conditions. Please contact us for more information on Flood Panel flood barriers and flood protection services.
Flood-Barriers.com is an informational website presented by the flood protection experts at FloodPanel.com to provide valuable resources and showcase a variety of flood control products that are among the best available in the market.
Flood Panel™
Flood Panel is a removable flood barrier system ideal for single or double door applications. Each panel is specifically engineered to the required height, and is edged with a rubber gasket.
Flood Panel and Post System™
Panel and Post System is a proprietary system designed by Flood Panel LLC. It is similar to the standard Flood Panel, but the panels are mounted on removable vertical posts.
Puddle Panel™
Puddle Panel is designed to be a quick reaction system capable of withstanding low flooding. It is highly effective in keeping water from entering doorways and is quick and easy to install.
Hinged Flood Gate
Hinged Flood Gates are similar to our other barriers except they are permanently installed at the opening location. They can be customized to suit any opening in either a single or double leaf configuration.
Pedestrian Flood Door (Man Door)
Flood Doors look and work like a normal pedestrian door that has been internally reinforced and has a sealing mechanism within the frame providing a leak free seal when closed.
Flood Log™
Flood Log is a modular system designed to withstand high velocity water loads and heavy impact forces. It has a proven history as an effective barrier, particularly in hurricane prone locations.
Automatic Flood Barriers
Automatic Flood Barriers are hinged flotation devices which are laid flat within the opening to be defended. They have a proven track record for sites like hospitals and federal buildings.
Flood Doors